... it's no wonder that polls continue to show how uninfomed we tend to be.
So, THIS is what is important in our lives?
a) A politician who tweeted pictures of his crotch?
'Not an easy choice' to stay
Weiner's wife takes spotlight this time
Huma Abedin was front and center as mayoral candidate Anthony Weiner confessed to further explicit exchanges online.
FULL STORY
b) A baby born to royals in a foreign country?
Prince William, his wife Catherine and the little prince start their first full day at home together, but something is missing -- his name.
FULL STORY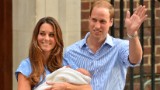 So, have you heard what's going on in my state?
How the North Carolina legislature just might be one of the worst in US history? How it is dismantling public education, stripping local jurisdictions of their right to control their own water supplies right before our very eyes, reducing our ability to vote, reforming the tax code to increase the burden on the poor in order to give more money to the rich? etc. etc.
Nope, it's not national news, at least not on the websites of the major television and newspapers. And so now you understand why it is happening.