Remember the post from last week, Why Does How You Die Matter to the Media?
http://mediacriminaljustice.blogspot.com/2012/12/why-does-how-you-die-matter-to-media.html
I wrote that the media focus on every victim "whenever there is a senseless tragedy involving violent death at the hands of a 'deranged gunman.'"
Well, unfortunately we're seeing it again this week in the wake of the mindless slaughter of 20 small children and 6 adults at an elementary school in Connecticut.
You can learn about every victim here:
REMEMBERING THE VICTIMS
Vicki Soto "was a hero." Jessica Rekos loved "everything about horses." Emilie Parker "could light up a room." Learn more about the victims.
Tributes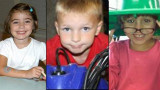 Or ...
PROFILES OF THE VICTIMS
|
PHOTOS: Conn. School Shooting Victims
And on every other network too.
This was a horrible tragedy. And I have kids in public schools around this age, so it is even harder for me than most.
But this case again illustrates what kinds of victims in which the media are most interested. Most get no coverage at all. And this distorts what is actually most dangerous to us and our kids.